Obama may also end up as the first president to be banned from cricket by Lalit Modi for hanging out with an ICL player!
Reader Comments
President Obama's cricket lessons from Brian Lara were cheered loudly in blogs and forums across USA today.
The President, who is known to have played baseball and still plays basketball when time permits, is a confirmed sports fanatic. But he is not the first president to wield the willow.
President Obama gets some expert coaching
President Obama, however, will be remembered as the first president to attempt a left handed cover drive.
On second thoughts, Obama may also end up as the first president to be
banned
from cricket by Lalit Modi for taking lessons from an ICL player!
Legendary batsman Brian Lara gave Barack Obama some batting lessons on the sidelines of the Fifth Summit of the Americas at the appropriately re-named Obama Terrace, Hilton Trinidad on Sunday.
President Bush learns how to duck
Lara also gave the President an autographed bat on which he wrote: "To the President of the United States, Barack Obama, in appreciation of your visit to T&T Best Wishes."
"I always wanted to meet with the Michael Jordan of cricket," Obama is said to have told Lara. Lara told The Guardian newspaper, "Despite these responsibilities, he seems to have a great liking for sport, and we both enjoyed our short time together."
Cricket afficianados will remember that the former President Bush famously ducked a ball bowled to him during his brief encounter with cricket whilst on a visit to Pakistan. Training that eventually helped him duck a shoe thrown at him.
The lessons helped him in the long run
Clinton got the game
But not with that bat!
Bill Clinton got his own dose of cricket. Former English Prime Minister John Major presented him with an
autographed book
- More Than a Game. On another occasion, John Major, gifted President Clinton with a Surrey County Cricket Club cap and three umbrellas.
President Clinton, who was the first US President to attend Oxford may have understood the game better than his predecessor, President George Bush Senior. In John Major's words: "I tried explaining the game to George Bush Senior, but when I told him that it could last for five days and there might not be a positive result, I could see his eyes glaze over."
These are just recent presidents to have experienced the game. USA cricket history is lined with stories of past presidents enjoying the game. When Chicago hosted Milwaukee in a 1859 cricket match, Abraham Lincoln was among the spectators. That's right.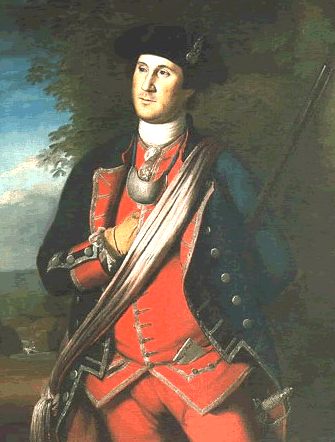 George Washington was a cricket buff
In 1753, when the British General Braddock marched on Fort Duquesne (later to be renamed Pittsburgh), he brought heavy rollers with him so he can make a cricket pitch. The resulting massacre - in which Braddock died - was the first time the supposedly invincible British had been defeated on American soil. With the British went the cricket pitch but one young 23 year old American officer who had served as aide-de-camp to General Braddock began to enjoy the game. His name was George Washington.
In 1775, Washington was appointed the commander of the American forces, this time to fight the army of King George. Having survived a savage winter in Valley Forge in 1878, George Washington rebuilt his army's shattered morale with theatrical entertainments and cricket.
Historical records show that on May 4, 1778,
George Washington played cricket himself. "This day His Excellency dined with General Nox" wrote first lieutenant George Ewing in his diary, "and after dinner did us the honor to play at Wicket with us." A festival match to commemorate an anniversary of the occasion was organized near Wayne's Woods below the Memorial Arch in the summer of 1993.
Other founding fathers are known to have been cricket buffs. It is believed that the rules of cricket were formalized in America in 1754 when Benjamin Franklin brought back from England a copy of the 1744 Laws called the "London Method." This gave cricket a 100 year lead before the first book of baseball rules was published.
In 1776, cricket came up in the debate at the Independence Hall over what to call the new nation's head of state. John Adams disapproved and noted futilely that "there are presidents of fire brigades and cricket clubs."
Picture courtesy: White House